Successful completion of college fire alarm upgrade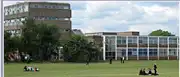 ARC Fire Safety has just completed an upgrade to the addressable fire system at Thomas Knyvette College in Surrey.
The work included not only the upgrade of the fire alarm control equipment but the installation of over 100 additional fire alarm detectors, as well as fire door retaining devices to around 25 fire doors.

Operations Director Andrew Meredith personally project managed the work to ensure all project deadlines were met and that the work was completed to the quality expected by a county council.