Salamander Wire Free Fire Door Retainers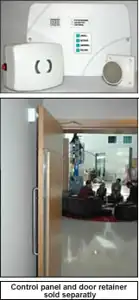 ARC Fire Safety is now an approved installer for the Geofire Salamander range of wire free fire door retainers
ARC Fire Safety is delighted to announce that we are now an approved installer for the Geofire Salamander range of wire free door retainers.
Managing Director Andy Burridge said, " This is great news for our customers as the Salamander range perfectly compliments the wire free fire alarm systems that the company already has a reputation for being a leading installer of. Customers can now reduce even further the level of disruption to their premises and working practice that having wired systems involves".

As with any system, ARC Fire Safety will carry out a site assessment and survey for the fire door retainers free of charge.