EMS Radio Alarm Upgrade at Brighton High School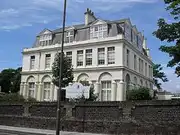 ARC Fire Safety has just successfully completed a fire alarm upgrade in three buildings at Brighton High School for girls using EMS Radio Fire Alarm equipment.
Following a risk assessment, the client was tasked with installing additional detection to three main buildings within the school campus.

Not only did the customer have a tight deadline for completion, one building has part listed status, and many other areas were subject to recent decoration and refurbishment, so the impact of the installation was to be carefully considered.

With this in mind, ARC Fire Safety worked with EMS to design a total wire free solutions, avoiding damage to the decor that a wiring installation would result in, and with the additional benefit that the whole project was completed in the school's half term break.

The client was delighted with the work, and the fact that the project was completed on time and budget.