ARC Fire Safety protects Southampton Care Homes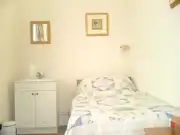 ARC Fire Safety Ltd has just successfully completed a fire alarm and nurse call system upgrade for Richard Kitchen Holdings
Four Care homes in Southampton operated by Richard Kitchen Holdings have just had a fire alarm and nurse call system upgrade which was completed by Hampshire fire alarm provider ARC Fire Safety Ltd.

Some of the homes invloved had been recently decorated and therefore ARC Fire Safety provided a total wire free solution by installaing the EDA Zerio radio fire alarm system and the ARM radio Nurse call system.

As no cable installation was needed, each site was completed within five days, and with minimal disruption to the building decor.

Group owner Mr Richard Kitchen was delighted with the work, and stated he would recommend ARC Fire Safety as the ideal solution to any Southampton fire alarm requirement.