Andrew Meredith promoted to Operations Director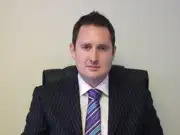 ARC Fire Safety are pleased to announce that Andrew Meredith has been promoted to the position of Operations Director
ARC Fire Safety Ltd have announced that Andrew Meredith has been appointed as the new Operations Director.

Andrew, who has been with the company for two years, has been promoted from the position of Operations Manager. Andrew has been running the Operations department for the last 18 months, and his responsibilities include overseeing the entire engineering operation, from in house stores and paperwork procedures to ensuring installations and planned service work is completed successfully in accordance with BAFE accredition requirements.

Managing Director Alan Simpson said, " We are delighted to appoint Andrew to the position of Director in recognition of the work he has done in improving the Operational side of the business, and his dedication to providing the very best in customer service".