ARC Fire complete first stage of large radio fire system.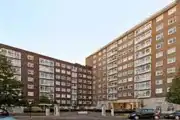 ARC Fire Safety has just completed the first building in a six building complex in North London
The company was tasked to design a wire free solution to cover six large residential blocks at the private complex in St John's Wood.
Using the EMS Firecell Radio Fire System , all buildings will report back to a Central Concierge location, without the need to dig up roads or trenches.
Sales Director Andy Burridge said, "This is the first project for a prestigious London property management company, and we are delighted they have placed their confidence in ARC Fire Safety based on our experience within this field".